Mouflon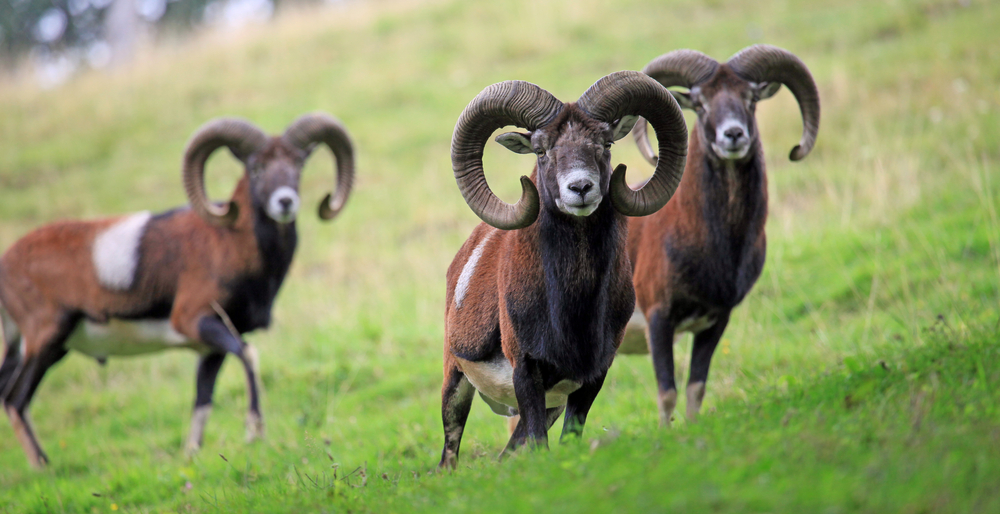 This wild game species differs in several ways from other game in Hungary. Firstly, it is not part of the original Hungarian wildlife, it is not native here. The first of its kind were brought here by Count KárolyForgách in 1868-69, whichaction was then followed by​​several localization programmes. Although the mouflonis primarily found in rocky mountain habitats at higher altitudes, italso feelsat home in Hungary; although it lives in "island-like" colonies, it is a permanent part of our wildlife.
Another of its attractive features is that, unlike other deer, it has horns instead of antlers. The curved horn is a constantly growing bony outgrowth, which makes it especially interesting and desirable for Hungarian hunters. A horn length of over 35 inches is certainly very impressive, such a nice curving spiral ornament is always a precious part of a hunter's collection!
The mouflon's senses are very good: unnecessary sounds and movements can easily give the hunter away. Due to the mountainous terrain, the only successful hunting strategy is stalking, but it is stillrather difficult to approach and stalk a mouflon. Therefore mouflon hunting is not easy, but it gives hunters a great sense of success. To have anice ram "in the bag" is like a dream come true.
CIC TrophyMeasurement System Scores
| | | |
| --- | --- | --- |
| CIC Score | Medal | Length of Horn |
| 205-   CIC | gold | from approx. 80 cm (31 inches) |
| 195-204,9 CIC | silver | approx. 75 cm (30-31 inches) |
| 185-194,9 CIC | bronze | approx. 70 cm (28-29 inches) |
Hunting Seasons
| | |
| --- | --- |
| Gender / Age Class | Hunting Season |
| ram | 1 September - last day of February |
| ewe, yearling ewe | 1 September - 31 January |
| lamb | 1 September – last day of February |
Places in the Hungarian League Table
| | | | |
| --- | --- | --- | --- |
| Place | Year of Harvest | Length of Horn | CIC Score |
| 1. | 2004 | 97,95 cm (38.56 inches) | 240,75 |
| 2. | 2001 | 103,30 cm (40.67 inches) | 234,70 |
| 3. | 1986 | 97,60 cm (38.43 inches) | 233,80 |
| 4. | 2005 | 96,00 cm (37.80 inches) | 232,60 |
| 5. | 1991 | 97,00 cm (38.19 inches) | 229,10 |
XX